Telephone = 901-759-0932 Central Time - We LOVE to talk to our customers.

••• Email: Click the Email Us button top Center
••• Address: 1657 Shelby Oaks Drive North, Suite 101, Memphis, TN 38134-7436 (Memphis... the Heart & Soul of Rock & Roll™)
••• Hours: (Central Time): Monday thru Thursday 9:00 AM to 5:00 PM, Friday 9:00 AM to 3:00 PM (Closed, Saturdays, Sundays and National Holidays)

ABOUT US... Founded in April of 1995 by Bob Metz, who is now retired, we are in the top 1% of all High End, High Quality Digital Banner Manufacturers in the U.S.. Satisfaction and Quality are 100% GUARANTEED!! NO QUESTIONS ASKED. Bob, and his entire family, are fanatical about customer service, customer satisfaction and product quality.
In 2006, Bob, our founder, noticed that most of the safety banners on the market were generally drab, only two or three colors, unimaginative and over priced. With over 20 years experience in the retail point-of-purchase business where images were exciting, vibrant, eye catching, and designed to make a point and sell something, he thought we could do a better job. In April of 2007, we launched our SafetyBanners.Org web site. He was right. In less than 18 months, we went from eight safety banners, to the U.S. leader in safety banners sales doing business with the majority of the fortune 500 companies, the U.S. Government and all the branches of our military. Today, we are the largest designer and manufacturer of Safety Banners in the United States with over 800 banner images and over 50,000 different safety awareness products. For that, we thank our wonderful customers.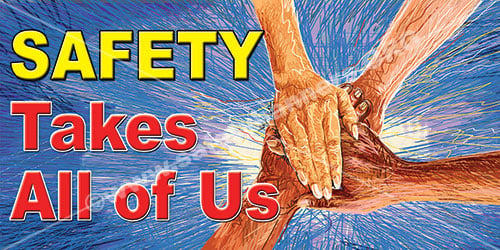 ALL our Safety Banners, and products, are made in AMERICA, right here in Memphis, Tennessee! American Made and Proud Of It!
Why SafetyBanners.ORG? Simple. Another company owned the domain name SafetyBanners.Com, and was not willing to let it go. The org extension was the only common extension available at that time, and thus we were born as SafetyBanners.Org.
SafetyBanners.Org is the Safety Banners sales division of New Tech Graphics located in Memphis, Tennessee. With several million dollars in sales, and producing over 14,000 banners a year, New Tech Graphics is the largest producer of Safety Banners in the U.S., and the largest producer of digital banners in the entire South.
In 1995 Bob, started this business as a broker of retail point-of-purchase signage working out of a spare bedroom. The business quickly grew and Bob's oldest son (Justin) started to work with his Dad. Two years later, his daughter-in-law (Justin's wife, Cyndi) came to work with us handling the customer service and accounting functions. Lastly, about 10 years ago, Bob's other and youngest son, Jaymie, came to work with his brother and Dad. In 1996, Bob recognized the importance of digital printing and spent over $100,000 to acquire our first large scale, outdoor grade, digital printer. Over time we became an all digital banner and retail point-of purchase manufacturer. We now operate six large scale digital printers. With several million dollars in sales, we are the largest digital printer of our type in the Mid-South area. Bob is proud we are a family owned and operated business.
Safety Pays! Every one is aware that Safety-Pays for it self over the long haul. Safety pays most when everyone is aware that the company cares about safety and promotes safety awareness. Yes, it is certainly true - Safety Pays and we can help you make your safety program work better.
SafetyBanners.Org, by New Tech Graphics was formed to provide industry with the ability to purchase HIGH QUALITY, HIGH IMPACT, LOW COST, VIBRANT safety banners.
---
Hello potential customer - in these days of thousands of internet companies, some of them scamming people and businesses, I believe it is worthwhile to tell you a little bit about us - New Tech Graphics and our Safety Web site SafetyBanners.Org.
This is Bob Metz. I founded Stuff 4 Stores, Inc, now DBA New Tech Graphics in April of 1995 from a spare bedroom in my home in Germantown, Tennessee, a suburb of Memphis. I am who I am and that has not changed. I am proud to have established basic principals which have made my company a successful, credible and reliable company with which thousands of people and businesses do business.
I have been able to build a company in which our customers have complete confidence and high expectations for quality and customer service - and we deliver - EVERY TIME.
We are not perfect. We make mistakes and have problems - BUT - we have ALWAYS taken care of our customers with no questions asked - ALWAYS! In fact we have a 100% customer retention rate.
We are people who like talking to and working with other people. I believe this makes us sensitive to the quality and cost of our products because it like doing business with friends. This is how I have built this business into a national, people oriented company with top quality products, reasonable prices and GREAT Customer Service. Of all this, I am very proud.
We have had online selling experience since 1997. Credit Card Security is critically important to me. We use the most secure (and expensive) online order processing system in the world and it has NEVER been penetrated or compromised.
Today, my son Justin and I own and run the company. I am proud to say he has the same principals and values I have carried throughout my life and implemented in my business.
I should also add that we are a financially sound company that has been able to weather this recession with ZERO prospect of going out of business. Our goal is not to get "rich", but to have a company in which we are proud and is sustainable, just in case my grandchildren are interested in having the potential to be as fortunate as I am.
Be Safe, be Happy, be Responsible and be a Good Person. . . Bob Metz
---
SafetyBanners.Org offers ALL our products all our products in both the vertical and horizontal format. SafetyBanners.Org is the ONLY manufacturer offering safety banners and posters in BOTH horizontal and vertical formats. That is why we say "Have It YOUR Way".
Please note: Safetybanners.com is a different company who also offers banners and is not us - SafetyBanners.Org.