FLAT RATE SHIPPING - only $19.75 per order.

And a GUARANTEED On-Site Delivery Date. After your order is placed we will email you a guaranteed on-site arrival date.

YES - Flat rate to ALL 50 United States and all our Military Installations world wide via APO/FPO service.
PLUS, we offer Drop Shipping to Unlimited U.S. Locations for the same $9.75 per location.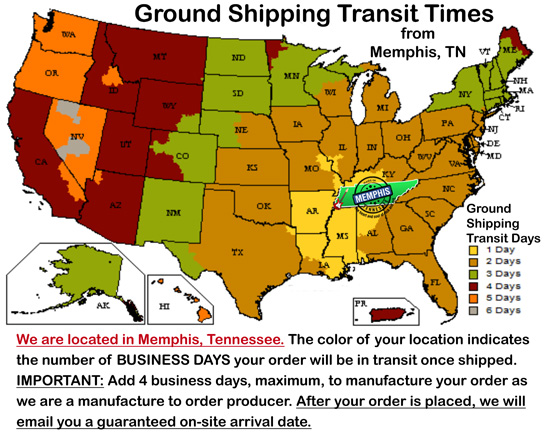 NOTE: We are located in Memphis, Tennessee. See the map for IN TRANSIT business days after your order is shipped.
NOTE: Add 4 business days, maximum, to manufacture your order as we are a manufacture to order producer.
After you place your order we will send you an email (during standard business day hours, Central Time) specifying the exact day your order will arrive on your site. The date in this email is our GUARANTEED order arrival date.
Some times you need to ship by an express method because you have a "Safety Banner Emergency". You can see the cost of the express shipping methods in the shopping cart. When you enter your destination information, the system can calculate and display the actual cost for each express shipping method. This will allow you to decide which cost and shipping method is best for your situation. (We have NO Inventory and are a manufacture to demand manufacturer with a 4 business day standard production time. If you need a faster production time - CALL US. We can probably do it.)
IN A RUSH!! It Just Happens - We understand. We can probably manufacture your safety banners faster than normal with NO rush charges. Call us - we will work with you! It is our job to make your facility and you look good and show others you have a strong emphasis on and commitment to safety.
NOTE: We are a produce to order manufacturer. Thus, we have no inventory and make your banners or products when you order them. This allows us to offer over 50,000 different products with out the cost of hundreds of thousands of dollars of inventory. This translates into cost savings for our customers.
Have Questions? Call us - 901-759-0932, Central Time.